Our Verdict
Pros
High-quality materials
Good input selection
Shifters feel good
Excellent quick release
Cons
Not a fan of rev lights
Non-interchangeable quick release
Wheel design a little plain
Affiliate Disclaimer: Some of the product links on this page are affiliate links. We may recieve commission if you purchase something after using one of these links, but using these links will never affect the price you pay.
What is the Moza Racing CS Steering Wheel?
The Moza CS Steering Wheel is designed with one sole purpose, and that is to bring you a high-quality steering wheel with a low price tag. The CS wheel is the cheapest wheel rim on offer from Moza at the time of writing this review.
The other steering wheels from Moza include the fantastic GS steering wheel, which I reviewed previously, and the RS steering wheel.
The GS steering wheel is designed as a Formula-style wheel, using the classic rectangular design. And the RS steering wheel is essentially the bigger brother of this CS wheel.
And quite an important factor to know while trying to understand where this wheel fits into Moza's growing ecosystem. Is that both the GS and R9 steering wheel cost double the amount of this CS wheel.
I'll talk about the cost in more detail further on in this review, but that is an important factor to know from the beginning. Just to repeat that, the CS wheel is half the price of those two wheels.
But before we get too excited by the cut price cost of this wheel. We do need to look at all of the pros and cons to see where corners have been cut, and why this wheel is so much cheaper.
And before I go any further, I just wanted to say thanks to Moza Racing for supplying this wheel for this review. And I wanted to reassure you guys that the fact that this wheel was supplied for a review, doesn't affect my opinion or this review in any way.
I will still point out any negatives that I find, with the aim of bringing you a fair and unbiased review.
Who are Moza Racing?
Moza Racing are a growing sim racing product manufacturer. They burst onto the scene a year or so ago, and have been releasing new sim racing products in quick succession.
They currently have a range of three wheel bases, all of which are direct drive. As well as three steering wheels and two pedal sets. That is a lot to release in just over a year! And I have been speaking to Moza and have been told that there are more new products to come in the future!
---
The Design of the Moza CS Steering Wheel
So let's jump straight into the look and feel of the CS steering wheel to see exactly what you get. And I do have to say, first impressions are excellent!
The moment you pick the wheel up, you can tell there are high-quality materials in use. The wheel is relatively weighty, especially when compared to other steering wheels in this price range. And a lot of that is due to the amount of metal that has been used.
The face plate itself is brushed aluminium, while the rear of the body is also constructed from aluminium. Even the two rotary encoders that are on the wheel are built in metal, and so are the shifter mounts on the rear.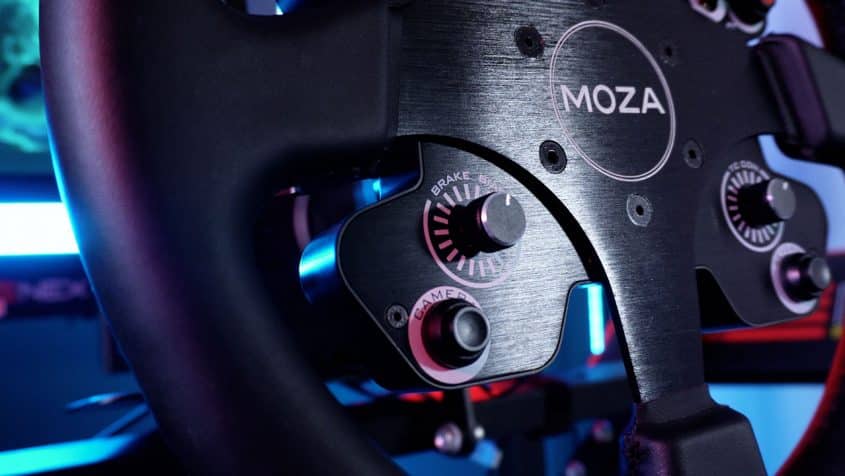 In fact, the only real plastic that you'll find on this wheel is in the push buttons themselves.
If you compare this approach to other racing wheels such as the steering wheel included with the Fanatec GT DD Pro bundle, or some Thrustmaster wheels in this price range. You'll see that a lot of those products utilise plastic heavily throughout the design. But that isn't the case with this CS wheel from Moza.
Moving on, the outer rim of this wheel is finished in microfibre leather that feels stiff, but comfortable to hold. This isn't genuine leather, but it feels good nonetheless. The choice of leather over Alcantara that was used on the GS steering wheel means you can easily race without gloves using the CS wheel which I appreciate.
The leather and metal frame feels incredibly tactile and sturdy, and on first inspection, the CS wheel looks and feels like a wheel that could take a good number of years worth of punishment!
It does lack a little bit of character in its overall aesthetic, looking… well… a bit plain. But the design is solid and includes pretty much everything you could want from a circular wheel at this price.
---
Price
Before I look at the features in-depth and how this wheel performs, I am going to touch on the price point.
So the Moza Racing CS steering wheel costs $279 directly from Moza Racing. Or it can be found at some other retailers for slightly more.
As I mentioned, at $279, this wheel is half the cost of the $500 GS and RS steering wheels from Moza.
And when looking outside of the Moza Brand, I'd put it in a similar category as the Fanatec BMW GT2 V2 steering wheel. That wheel comes in at $350, and even then, it doesn't have the same feature set as this CS wheel.
At $279, that means you can pick up a complete direct drive wheel set up, along with the Moza R9 wheel base and SR-P pedals for under $900.
That may still seem pricey for a racing wheel. But you do get a very good direct drive wheel base for that price.
---
Moza GS Steering Wheel Features
With the price covered, let's look at the features of this Moza CS wheel in more detail.
Push Buttons
So on the front of the wheel itself, you have 6 push buttons. As mentioned earlier, these are one of the only plastic items on the wheel itself, but they do appear to be the exact same push buttons that are found on the more premium GS and RS steering wheels.
The only difference is that they aren't RGB backlit like the ones found on the GS wheel. But that is to be expected at this price range. The buttons themselves feel very nice to use and activate. The click itself is very positive which is important when making quick inputs during a race session!
As with most racing wheels, these push buttons can be programmed inside your sim of choice to control whatever in-game functions you desire. I generally have mine set to the ignition, pit limiter, DRS and ERS if racing in a car that supports that, along with other inputs such as wipers, headlights and push to talk.
There are a bunch of stickers included with the wheel, so if you don't like the all-black look, or want an easy reminder of the function of each button, you can easily apply them.
You can see that I have applied a red "P" button to test the stickers out.
RGB Rev Indicator
Across the top of the wheel, you will see an RGB light strip. This is identical as far as I can tell to the one in my GS steering wheel. And that brings the same positives and negatives.
You can customise the colour of the RGB lights and the timing in the Pit House software included with this wheel. But my biggest issue with this rev indicator remains the same. The diffused plastic that sits over the top makes the leading edge of the rev bar blurry.
And it also adds a strange gradient to different colours if next to each other. For example, I like to run the F1 style rev light pattern of green red and blue as the RGB lights illuminate. But this creates a strange yellow and pink gradient colour where the red bleeds into the two adjacent colours.
This is only a very small issue and one that many probably won't agree with. I can see Moza are using this approach as a slight point of difference compared to other brands, but I do prefer the approach of individually lit rev lights.
Rotary Encoders
Along with the six push buttons, there are also two rotary encoders. Each rotary encoder turns infinitely from left to right allowing you to increase and decrease settings in-game. They both also feature a push function so they can act as two extra push buttons.
The rotary encoders in particular are fantastic. They are constructed from aluminium, and feel incredibly weighty to use. The click that is in-between each activation as you turn the dial allows you to easily know how many times you've adjusted the encoder.
In fact, to be honest, I prefer these encoders over the ones found on the more premium GS steering wheel.
Although I do have to say that when I first unboxed this wheel, one of the encoder caps had fallen off. It did click right back on once I lined it up, but it did ever so slightly spoil my first impression.
Knobs
In addition to the buttons and encoders, there are also two analogue knobs towards the top of the wheel. These can be configured to act as up, down, left and right inputs and are very useful for navigating menus in-game.
I also configured the right knob to act as a glance left and right function for games such as F1 22 when racing in cockpit mode.
Much like the encoders, these two knobs also feature a push functionality so you can configure that as another button input. Although I don't really use this as in-game I find myself pushing the knob in a direction when trying to push it straight down.
Shifters
Flipping the wheel over you have two magnetic shifters. These are constructed from forged carbon fibre and both look and feel stunning. The edges are bevelled nicely so they feel good to touch. And the forged carbon fibre is just such a cool aesthetic.
In terms of functionality, both shifters feature a magnetic contactless activation. They feel positive to use, but are slightly lighter to pull than the shifters on the premium wheels. It feels like weaker magnets have been used, but is probably more to do with the fact that the shifters have a longer arm on them compared to the GS shifters.
Both shifters are relatively loud to use, meaning they could become annoying to those in adjoining rooms. But there are two small silencing pads included. These reduce the noise a little but not fully.
Quick Release
And then there is the unique Moza Racing quick-release design. This is the same as the one found on the other Moza wheels and is quite simply fantastic.
It has a contactless design, meaning no need for USB connections, and allows you to attach and detach your steering wheel incredibly quickly. You simply pull the quick release towards the wheel and then pull your wheel away from the wheel base. And then to re-attach it, you align the quick release and push.
I can't praise this quick release enough, as it is quite simply the best on the market at this price range. Although I would have liked the cool gold quick release included that is found on the GS wheel as that looks much nicer than the black found on this CS wheel! I do need me a little bit of bling when racing!
Also, it is worth noting that this quick release is built into the steering wheel itself and isn't interchangeable. This means that if Moza releases a new quick release in the future, you won't be able to upgrade this wheel very easily. It also means you can't use this steering wheel with any other wheel base other than those designed by Moza.
---
Moza CS Steering Wheel Performance
When I hook the CS wheel up to the rig, everything sort of clicks into place (quite literally with the Moza quick release!). The wheel feels good when attached to my R9 wheel base. The leather feels good in your hands and as I said, no need to wear gloves with this wheel.
All of the buttons are placed in relatively accessible locations allowing me to activate buttons without removing my hands too much. The only inputs I had to remove my hands for were the two encoders towards the bottom of the wheel. Also, I had to adjust my hand position for the two lower push buttons.
The shifters themselves feel great in the heat of a race, and you certainly won't be double shifting or missing shifts with these.
Overall, the wheel base performs as well as it looks and is ideal as a road car, rally, drift or GT-style wheel.
---
Pit House Software
I've touched on the Pit House software in previous Moza product reviews such as the GS steering wheel review so I won't mention it much in this review. But head over to my GS wheel review to hear me talking about it.
The software is very good, allowing you to change a whole load of functionality, from RGB colours to force feedback detail and settings.
---
Compatibility
I did touch on this a little earlier, but the CS wheel is only compatible with Moza wheel bases due to the quick release and Bluetooth technology. You cannot use it with any other wheel bases from other brands.
You also cannot use it with consoles, as the Moza ecosystem is currently only PC based. So if you're looking for a console-compatible wheel from Moza you'll have to wait a little longer. But I have been informed that this is something that Moza is looking at for future product releases.
---
Should you buy the Moza CS Steering Wheel?
With everything said and done, would I recommend this steering wheel, and should you consider buying it?
Well, quite simply this is a great entry-level steering wheel. The fact that the price is around half that of the more premium GS and RS wheels, while keeping this high level of build quality is impressive.
There really haven't been many corners cut, more just a case of some additional functionality removed. This is really just a slimmed-down version of the RS steering wheel.
If you are either a console sim racer, or you already have either of the more premium Moza steering wheels, you don't really have any reason to pick this wheel up.
But, if you are looking at purchasing a completely new sim racing wheel setup, I would highly recommend this steering wheel along with the R9 wheel base.